Caryn Elaine Johnson (born November 13, 1955), known professionally as Whoopi Goldberg, is an American actress, comedian, author and television host.
She has been nominated for 13 Emmy Awards for her work in television and is one of the few entertainers who have won an Emmy Award, a Grammy Award, an Oscar, and a Tony Award. She was the second black woman in the history of the Academy Awards to win an acting Oscar.
She makes a cameo voice appearance as Ursula in Descendants 2.
Trivia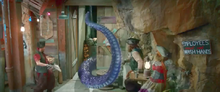 Ad blocker interference detected!
Wikia is a free-to-use site that makes money from advertising. We have a modified experience for viewers using ad blockers

Wikia is not accessible if you've made further modifications. Remove the custom ad blocker rule(s) and the page will load as expected.