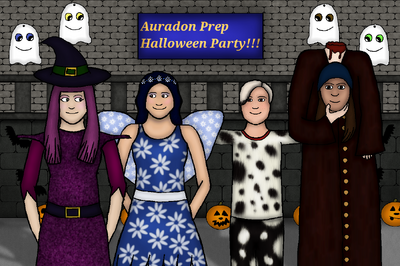 "A new Tradition"
This is my fanart submission. It's the VK's first halloween (and holiday) in Auradon, and while there's not as many tricks, they don't mind all the extra treats! Evie made each of their costumes, and they didn't get to see them until the gang met up to get ready for the party. At the end of the night, they were the last kids to leave, and the group took a photo together to forever remember this night. 

In my piece, each character is wearing the costume that I felt would represent them best. Mal and Jay are both wearing costumes associated more with fear. This is because they both struggled with extremal problems, when they first came to Auradon, such as aggressiveness and vandalism. Similarly, Evie and Carlos are wearing "cuter" costumes. This is because they struggled more with internal problems, like phobias and self-acceptance, and seemed less threatening. Additionally, the background is the same area in which "Set it off" is recorded. I did this because just like after Mal defeats her mother, this is a milestone for the VK's, celebrating their first holiday in Auradon.
Ad blocker interference detected!
Wikia is a free-to-use site that makes money from advertising. We have a modified experience for viewers using ad blockers

Wikia is not accessible if you've made further modifications. Remove the custom ad blocker rule(s) and the page will load as expected.