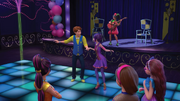 Ally
It's time for the crowning of the Neon Lights King and Queen! Ben and Evie!
Evie
Oh, the jewels on the crown totally match my eyes! I look so good! I don't even need a filter!
Ben
I know I'm new to the whole crown thing, but I don't think plastic jewels are supposed to poke you in the skull.
Mal
Beauty is pain.
Ben
And I'm gorgeous.
Evie
I know. I really am.
Ally
And now, we invite our King and Queen to do a solo dance!
Evie
Dance for me. I've got a date with some bling. Oh, crownie, I love you!
Ben
Did my queen just dump me for fake jewelry?
Mal
She sure did, but, hey! You gotta admit they do make a lovely couple.
Ben
They do, but I can't let "crownie" outdance me. Shall we?
Mal
We shall! Where is the music?
Ben
Maybe it's a really slow slow dance?
Ally
Excuse us. Lonnie, what's going on?
Lonnie
I don't know what happened. Nothing's working. Someone cut the equipment cord!
Ally
Uh, we're having some technical difficulties. Please hold. Someone cut the DJ cord!
Mal
What? Who?
Freddie
Uh, don't worry. I'll sing for you. No, really, I mean it. No, no, no, guys, I insist. I got this. Seriously. Go on. Dance.

♫ Why you're standing over there ♫ ♫
♫ Acting like you just don't care? ♫
♫ We can make our own kind of music
♫ We might come from different worlds ♫
♫ Might not be your kind of girl ♫
♫ But I just wanna let go and lose it ♫

♫ We are lost and found ♫
♫ So let's go turn the beat around ♫
♫ And maybe find a brand new sound ♫
♫ Let's turn it up right now ♫

♫ Because the night is young ♫
♫ And it's just begun ♫

Jordan
Um, from what I see, it looks like Freddie's kinda saved the party. I don't know why you, guys, are throwing your shade.
Jane
Shade?
Jordan
Throwing shade is like... talking trash with your eyes, darling. Like this.
Jane
I know what it means. I just wanted to see if you did.
Freddie

♫ The night is young ♫
♫ And I wish that it would never end ♫

Audrey
Don't you think it's kinda strange that right after the DJ cord was cut, she jumped in, all ready to sing?
Jordan
Maybe she wanted to help?
Jane
Or... maybe she wanted the spotlight?
Audrey
I bet she cut the DJ cord.
Jordan
You'd better stop trash talking before you cut a vocal cord.
Audrey
Hey! Whose side are you on anyway?
Jordan
The side that writes songs that good. I smell something viral. Go on, girl!
Freddie

♫ And go till the sun comes up ♫
♫ The night is young ♫

Hit it, Lonnie.

Music
You know I got it, I got it. I'm your girl.
Characters
Cast