School of Secrets: Ally's Mad Mystery is the third book in the Descendants book series, School of Secrets. It was released on February 28, 2017.
Synopsis
Ally is the daughter of Alice in Wonderland.
She's quirky, she's funny, and she loves solving a tricky mystery.
When strange things start happening at Auradon Prep that threaten the school's big spirit weekend, Ally is determined to find who's behind the madness.
Will she be able to figure it out in time, or will the clock run out on her?
Product Information
Age Range: 9 - 12 years
Grade Level: 3 - 7
Series: School of Secrets (Book 3)
Hardcover: 192 pages
Publisher: Disney Press (February 28, 2017)
Language: English
ISBN-10: 1484778669
ISBN-13: 978-1484778661
Product Dimensions: 5.5 x 0.8 x 8 inches
Videos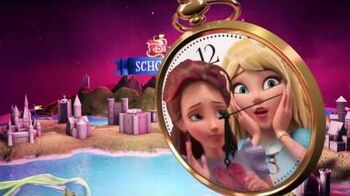 Ad blocker interference detected!
Wikia is a free-to-use site that makes money from advertising. We have a modified experience for viewers using ad blockers

Wikia is not accessible if you've made further modifications. Remove the custom ad blocker rule(s) and the page will load as expected.