"Poor Unfortunate Souls" is a song from the upcoming Disney Channel movie Descendants 2. The song will be performed by China Anne McClain - in her vocal role as Uma (daughter of Ursula) and was the song in The Little Mermaid, sang by Ursula.
Lyrics
Uma: Poor unfortunate souls
In pain, in need
This one longing to be thinner
That one wants to get the girl
And do I help them?
Yes, indeed
Video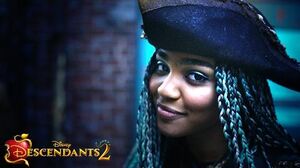 Trivia
Ad blocker interference detected!
Wikia is a free-to-use site that makes money from advertising. We have a modified experience for viewers using ad blockers

Wikia is not accessible if you've made further modifications. Remove the custom ad blocker rule(s) and the page will load as expected.